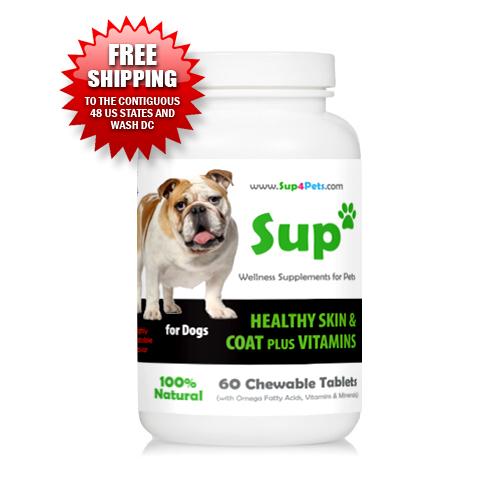 Healthy Skin & Coat plus Vitamins for Dogs
(60 Chewable Tablets)
Regular price $19.99 Sale
OVERVIEW - Sup Healthy Skin & Coat plus Vitamins is a 100% natural supplemental source of Omega Fatty Acids and other essential vitamins and minerals for dogs. This unique "3-in-1" supplement offers your pet the ideal combination of high-quality nutrients known to help improve skin, hair and fur condition, and also to reduce excessive shedding.
Omega Fatty Acids - includes a unique combination of flaxseed oil and marine lipids (fish oil), with enriched levels of omega-3 fatty acids including EPA, ALA, DHA, DPA and others. Our formula also includes omega-6 fatty acids.  
Hydrolyzed Soy Protein - our flavoring is safe to use with food allergic dogs, and dogs love the highly palatable taste and texture which strengthens the human-animal bond.  
Key Vitamins and Minerals - aids in the prophylaxis and treatment of multiple vitamin and mineral deficiencies. 
RECOMMENDED USE - The following dosage guideline outlines the recommended daily amounts for the administration of Sup Healthy Skin & Coat plus Vitamins Chewable Tablets.  
Daily Dosage Guideline
| | |
| --- | --- |
|  Weight (lbs.) | Dose (tablets/day) |
|     1 - 20 |     0.5 |
|     21 - 50 |     1  |
|     Over 50 |     1 - 2  |
ADMINISTRATION
Feed the Chewable Tablets as a treat or crumble over the dog's food at mealtime while monitoring consumption. Sup Healthy Skin & Coat plus Vitamins Chewable Tablets are scored and can be easily broken for accurate dosing. Tablets are formulated with a proprietary, highly palatable flavoring to ensure dogs readily consume the supplement. 
INGREDIENTS (per Tablet)
Microencapsulated Fatty Acids
- Marine Lipid Concentrates/Fish Oil (400 mg)
- Flaxseed Oil (100 mg)
Vitamins
- Vitamin A (4300 I.U.)
- Vitamin B1 (2800 mcg)
- Vitamin B2 (2800 mcg)
- Vitamin B6 (2290 mcg)
- Vitamin B12 (70 mcg)
- Vitamin D3 (860 I.U.)
- Vitamin E (14 I.U.)
- Vitamin K (710 mcg)
- Biotin (28 mcg)
- Choline (7 mg)
- Folic Acid (86 mcg)
- Inositol (21 mg)
- Niacin (21 mg)
- Pantothenic Acid (3230 mcg)
Minerals
- Calcium (25.5 mg)
- Chloride (5.7 mg)
- Cobalt (43 mcg)
- Copper (500 mcg)
- Iodine (105 mcg)
- Iron (10 mg)
- Magnesium (4.3 mg)
- Manganese (198 mcg)
- Phosphorus (20 mg)
- Potassium (42 mcg)
- Selenium (8.6 mcg)
- Sodium (4.3 mg)
- Zinc (7.1 mg)
ADDITIONAL INSTRUCTIONS
Store at Room Temperature: 59-86°F (15-30°C)
Avoid Excessive Heat
Keep Out of Reach of Children
Product Code: 101020060