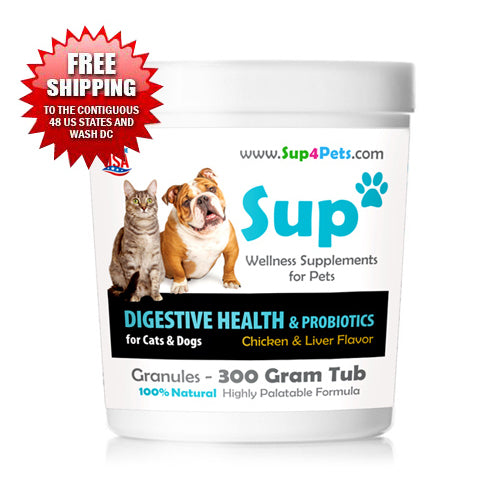 Digestive Health plus Probiotics for Cats and Dogs
(300 Gram Tub of Granules)
Regular price $38.99 Sale
A comprehensive and completely balanced formulation of 14 high-quality, all-natural plant digestive enzymes plus a proprietary blend of effective probiotics 
All ingredients are human grade food quality and blended to deliver consistent amounts in every dose
This product is beneficial for a variety of clinical conditions including:
- Improving digestion 
- Reducing bloating
- Decreasing coprophagia tendencies
- Reducing flatulence
- Assisting with digestive disorders
- Helping with immune system disorders
- Weight management
- Improving hair and coat
- Reducing shedding
OVERVIEW - Sup Digestive Health and Probiotics Granules provides the necessary digestive enzymes to completely digest and deliver vital nutrients in a pet's daily diet. In addition, increased absorption of essential nutrients and fatty acids will increase the caloric value and nutritional efficiency of the pet's food. This product is safe to use with cats and dogs of all ages.
RECOMMENDED USE - The following dosage guidelines outline the recommended daily amounts for the administration of Sup Digestive Health plus Enzymes for Cats and Dogs:
Dogs: Administer 1/4 teaspoon per cup of pet food
Cats: Administer 1/4 teaspoon per cup of pet food 
Note: For geriatric pets, it is recommended to double the dose. Also, this product will not interfere with any medication or medical therapy since it is not a drug. 
ADMINISTRATION  
For best results, use at every feeding. Measure out the recommended dose and sprinkle on top of your pet's food. The product may be mixed with the food to facilitate complete consumption. The granules are formulated with a highly palatable chicken and liver flavor to ensure that pets will readily consume the supplement.     
ACTIVE INGREDIENTS
- Alpha-Amylase 
- Alpha-Galactosidase  
- Beta-Gluconase 
- Bromelain
- Cellulase
- Hemicellulase
- Lipase
- Malt Diastase
- Pectinase
- Peptidase
- Phytase
- Protease 3.0
- Protease 4.5
- Protease 6.0
- Bacillus Subtillus
- Bacillus licheniformis
- Bacillus pumilus  
INACTIVE INGREDIENTS
- Hydrolyzed Vegetable Protein
- Marine Lipid Concentrates
- Chicken Liver Flavor
- Sucrose
- Vitamin E
- Whey  
ADDITIONAL INSTRUCTIONS
Store at Room Temperature: 59-86° F (15-30° C)
Avoid Excessive Heat
Keep Out of Reach of Children  
Product Code: 306110030